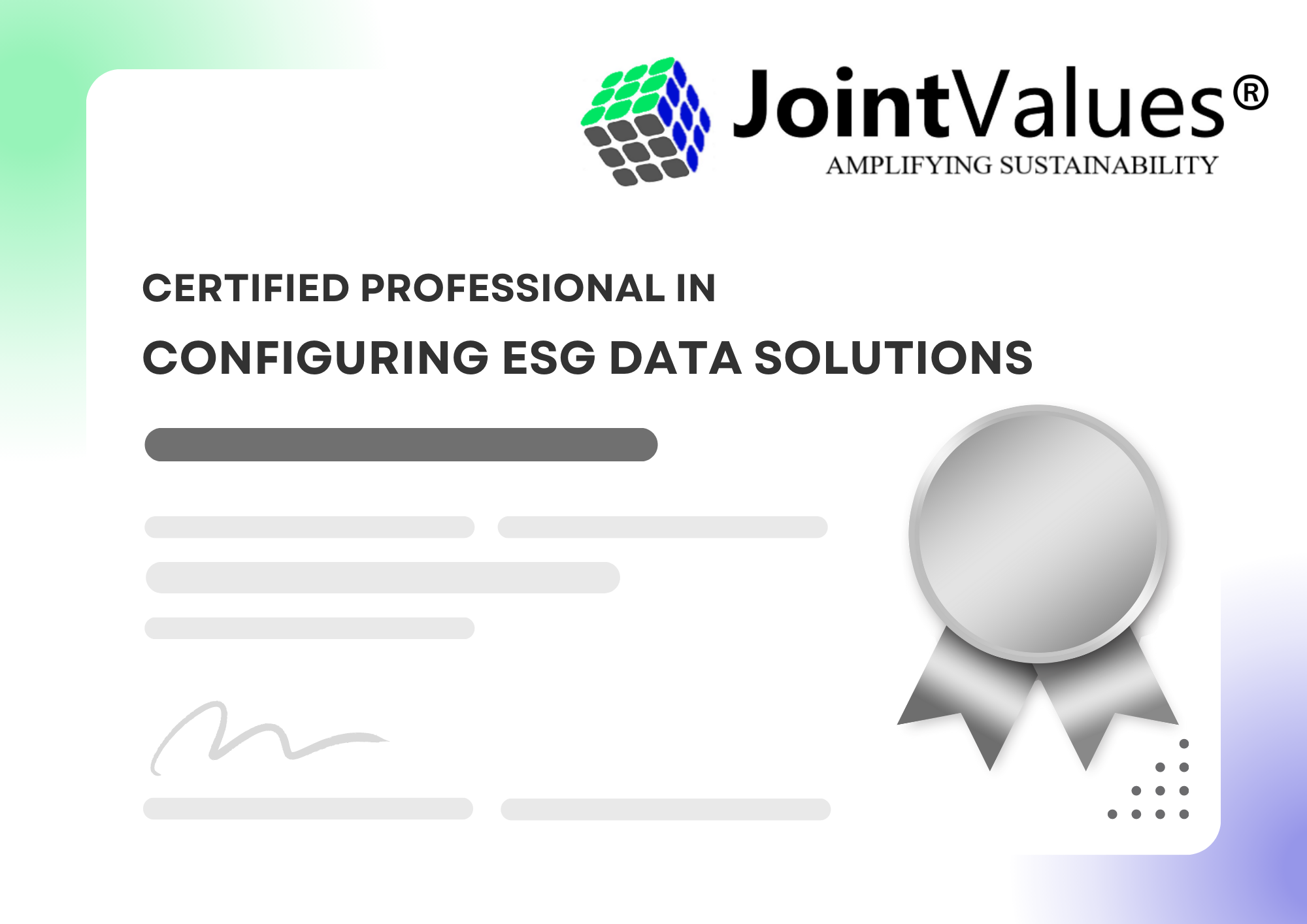 Are you ready to boost your career and save millions of $ for your organization?
Become a JointValues Certified Professional in "Configuring ESG Data Solutions". Gain knowledge and skills to successfully navigate your career in the dynamic landscape of ESG data solutions and regulatory compliance.
Why Choose ESG Data Solutions Training?
With legal developments worldwide, businesses are transforming how companies report on their environmental, social, and governance (ESG) practices.
? What are Europe's moves to make ESG a must for companies?:
5 January 2023: The Corporate Sustainability Reporting Directive (CSRD) enters into force in the EU, requiring large and listed companies to disclose social and environmental information.
31 July 2023: The European Commission adopts the European Sustainability Reporting Standards (ESRS) for companies subject to the CSRD, impacting reporting from the 2024 financial year.
? What are the latest standards triggering global ESG shift?
26 June 2023: The International Sustainability Standards Board (ISSB), a body of the International Financial Reporting Standards (IFRS) Foundation, issues IFRS-S1 and IFRS-S2 standards for sustainability-related and climate-related financial disclosures.
25 July 2023: ISSB standards, endorsed by the International Organization of Securities Commissions (IOSCO), trigger global adoption and public consultation by different countries for adoption.
?? India's Commitment to ESG:
12 July 2023: SEBI introduces new regulations for enhanced reporting and assurance of ESG practices for Indian companies with a mandate that:
1️⃣ From 2023-24, Top-1000 listed entities are mandated to report using the revised BRSR format with aspects like job creation in small towns, gross wages for women, and intensity ratios based on revenue adjusted for purchasing power parity.
2️⃣ Starting 2023-24, Top-150 listed entities are obligated to undertake reasonable assurance of the BRSR Core, a sub-set of the BRSR format.
3️⃣ From 2024-25, Top-250 listed entities will disclose ESG practices across their value chain and obtain limited assurance from FY 2025–26. The number of reporting companies with assurance will increase to Top-1000 within four years.
What is the significance of growing global ESG funds?
ESG-aligned assets are estimated to reach $53 trillion by 2025, a third of the global Assets Under Management (AUM) by private investors and mutual funds (Bloomberg report of Feb, 2023). This means that to attract capital for their businesses, both large companies and MSMEs will need to showcase not only their returns on investment but also their ESG practices and sustainability impacts.
How does it impact businesses?
ESG regulations, including those introduced by SEBI, and the alignment of global funds with ESG are set to create a value chain ripple effect. As companies adopt transparent reporting, they require verified data from their supplier and partners, setting off a ripple effect that spans industries and geographies.
? What's Your Opportunity Here?
ESG-oriented IT professionals will be in high demand in the coming years.
Becoming a Certified Professional in Configuring ESG Data Solutions may be your ? key to a sustainable career.
Certification and Takeaways for Different Levels of Learners:
? For Career Entry-Level Participants:
1. Gain skills in the configuration of data collection and forecasting modules for various requirements using Planning Analytics software.
2. Utilize the opportunity to network with faculties and senior participants who are often industry leaders.
3. Learn diversified use of your IT skills and open the doors for new opportunities in your career.
? For Career Mid-Senior Level Participants:
1. Gain knowledge of ESG data requirements and gain ideas on how in-house solutions can be developed including integration possibilities with the financial and operational data of the organization without subscribing to an ESG SaaS for millions of dollars.
3. Learn how to optimize your existing IT resources to meet the ESG data requirements of CXOs and the Board of Directors in your organization.
4. Explore the possibilities of utilizing existing IT software for ESG legal compliance in your company.
Why Opt for JointValues for this Training?
At the forefront of innovation, JointValues introduces the "Configuring ESG Data Solutions on Planning and Analytics Software". Our experts unite ESG professionals with deep domain knowledge and industry experience with developers of IBM's Planning Analytics software, offering unparalleled insights and skills to deliver this training.
Course Curriculum
1 – Global ESG Shift: An Overview of Legal Requirements

2 – BRSR Data Requirement: An Example of Key ESG Data

3 – Assurance: Introduction to Assurance Standards and Levels of Assurance

4 – Environmental Domain Data Requirements

5 – Social Domain Data Requirements

6 – Governance Domain Data Requirements
1 – Introduction and Installation: Planning Analytics software's architecture and installation procedures.

2 – Creating Dimensions: Understand the functionality of dimensions and learn to create and customize them using Planning Analytics' powerful features.

3 – Building Cubes and Views: Gain expertise in creating and managing cubes and views to organize and analyze data effectively.

4 – Loading and Maintaining Data: Learn different methods of loading and maintaining data in software, including manual and automated processes.

5 – Incorporating System Rules and Optimization: Explore the use of rules, feeders, and optimization techniques to enhance software performance.

6 – Scripts for Data Load Process: Discover TurboIntegrator (TI) scripts and their role in loading and transforming data.

7 – Data Movement Cores: Master the art of moving data between versions and executing scheduled chores for efficient data management.

8 – Converting Currencies: Understand currency conversion and learn to create rules for applying exchange rates and calculating amounts.

9 – Defining Security Levels: Learn to establish user and group security, application, cube, dimension, and element security settings.
1 – Business Case Practice: Configure data solutions for the selected domains of ESG as business case practices.

2 – Creating Reports: Explore the creation of snapshots, slices, and active forms to generate insightful and assurance-ready ESG reports.

3 – Standard Solution: Configure standard ESG data solutions worth application in a mid-size organization.

4 – Practice Paper and Certification Exam: Take advantage of a free sample practice test to boost your confidence and maximize your chances of scoring high in the certification exam.

5 – Certification Exam: Take up the most advanced knowledge and skills evaluation leading to the award of JointValues Certification for Proficiency in ESG Data Solutions Configuration on Planning and Analytics Software.
What Are the Special Features of This Training?:
✨Hands-on Practical Labs: Gain real-world experience to apply concepts confidently. Tackle industry-relevant project use cases to apply your skills and gain practical expertise in ESG data and risk management.
✨Flexibility to Suit You: Choose from flexible training schedules that align with your availability for a seamless learning experience.
✨Continuous Support: Our experts are here for you even after training completion
Know Your Training Journey:
Total 3 modules containing 20 topics and Virtual Instructure Lead Sessions (VILS) for 1 hour each, a total of 36 to 40 hours of time commitment for certification including 16 to 20 hours (4 to 5 hours per week) of self-paced practice and study.
Total Fee: ₹ 30,000 for residents of India and US$ 1,000 for non-residents of India.
Discounts Await You:
– 10% off for single-shot payment.
– 15% off for early birds – booking 25 days in advance of the batch kickoff. (This discount is mutually exclusive with the discount for single-shot payment).
– 10% refund (of the amount paid) for meritorious efforts – passing the final written assessment with over 90% score.
– Convenient instalment option is available waiving discounts (Rs 20,000 before the commencement of batch and Rs 10,000 before module 2 of the same batch).
Heads Up:
1️⃣ Please be aware that participant enrollments and faculty assignments are typically finalized 14 days before the batch commences for logistical planning. Registrations made within this period will either guarantee a seat or be automatically rescheduled to the next batch with an early-bird discount or a refund.
2️⃣ In the event that batch dates need to be altered due to exceptional circumstances, we will update the information on our website and promptly notify confirmed participants for scheduled batches. You will have the option to accommodate the new dates or receive a refund of the fees paid, with no interest or penalties for any inconvenience caused.
Convenient Batches – Secure Your Spot Now!
Weekend Batch: Saturdays: 3 PM – 6 PM IST and Sundays: 10 AM – 1 PM IST, Duration: 4 Weeks.
Next Batch Kickoff: To be scheduled (you are welcome to submit your preference here below).
After Work Batch: Tuesday to Thursday: 8 PM – 10 PM, Duration: 4 weeks.
Next Batch Kickoff: To be scheduled (you are welcome to submit your preference here below).
Related Content: Article with experts' insights on the capability of Planning Analytics software for ESG Data Solutions.